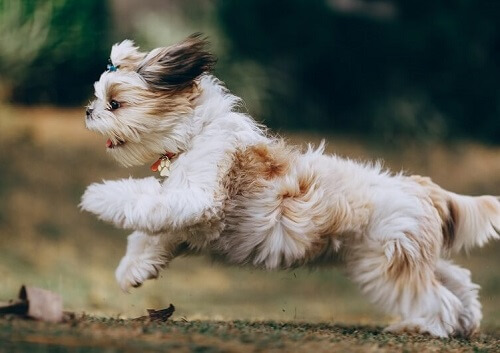 If you are looking to find pet friendly apartments for rent in Spring TX, The Canopy at Springwoods Village, brand-new garden style apartments, is must-see community. Here, your furry friend will be welcome, and love living here. You will, too!
Our Dog Friendly Apartment Amenities
While cats typically prefer to lounge at home, most dogs enjoy spending time outdoors. Among the many fabulous amenities of our Springwoods Village luxury apartments is a dog park where pooches can run and play. Some of our apartments include a private yard, making outdoor time very convenient, and there is a trail surrounding a private lake within our community where you can take relaxing walks together without leaving home.
Pet Amenities in Springwoods Village
Living in Springwoods Village, an exceptional master planned community in Spring, you will have access to the community's many amenities. Among them is Spring Grove Park, Springwood Village's central amenity park, which includes a "Bark Park." Located on E Mossy Oaks Rd., less than a mile and a half from our apartments, the dog park is open to pooches at least four months old. It offers fenced areas where small dogs (under 20 pounds) and larger dogs can play separately. There's room for running and an obstacle for dogs that like a challenge. Waste bags are also available inside and outside the park.

If you want more outdoor spaces to explore, Springwoods Village includes over 290 acres of parks and natural corridors, which connect to a network of trails. The opportunities seem endless. Read more about the parks and trails at Springwoods Village.
When you need pet supplies or grooming services, Natural Pawz in The Market at Springwoods Village is only steps away. The pet store provides same-day deliveries, too. There is also a PetSmart at the Grand Parkway Marketplace on Spring Stuebner Rd. and a Petco nearby.
In the Market at Springwoods Village, you will find Banfield Pet Hospital, a full-service medical facility. If your furry friend needs preventative care or treatment, the veterinarians and staff can provide it.
Ready to Find an Apartment at The Canopy?
The Canopy at Springwoods Village offers multiple floorplan options for our luxury 1-3 bedroom apartments and 1 and 3 bedroom townhomes for rent. Browse through the plans to view apartment layouts, square footage, rent and deposit fees. You can check availability of the plans you like, get basic lease information, and apply online or schedule a tour. If you have questions, please contact us.
We look forward to showing you around and welcoming you home!