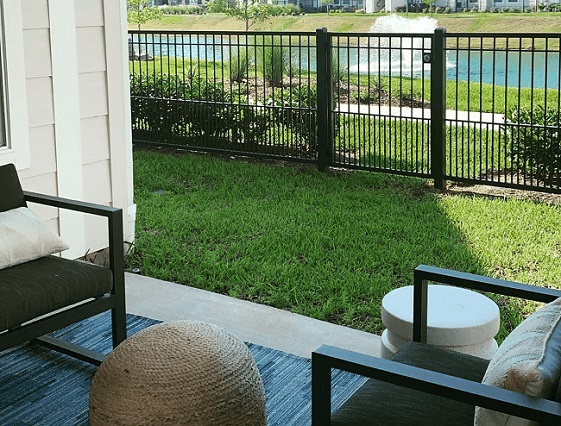 Renting an apartment instead of a house offers advantages. For instance, you don't pay property taxes, your home's maintenance is taken care of, and you can enjoy shared resort-style amenities such as a pool and spa, fully equipped gym, lounge and more, depending on which community you choose. But unlike houses, most apartments do not include a private, fence yard. Finding an apartment with an attached garage can also be difficult, and you will only find a few upscale apartments with EV charging stations.

If you're looking to rent an apartment with a private yard, onsite electric car charging station, or one with an attached garage in the North Houston Spring area, come to The Canopy. You could find exactly what you're searching for.
Apartments with Private Yards Ideal for Dogs, & People, too!
For pet parents, finding a pet-friendly apartment is at the top of their list when searching for a new apartment. If your furry companion is a dog, finding a dog-friendly apartment with a private, fenced yard is a huge win!
Imagine being able to open your door and let your pooch outside. For most apartment dwellers, that's wishful thinking. But select apartments at The Canopy make it possible.
Even if you're not a pet owner, the idea of relaxing with your favorite beverage outside on the patio in your own backyard can certainly be appealing.
Renting an Apartment with an Attached Garage
If you've experienced coming home after a long day at the office only to be forced to drive around, and around and around, searching for a place to park, you know what a luxury renting an apartment with an attached garage can be. With your own private garage, you always know where you can park.
Entering or leaving home in bad weather is not a problem when you live in an apartment with a garage. You won't get wet walking from your door to your car. And bringing in shopping bags is a breeze when you're parked right next to your door. Plus, you know your car is protected from the weather, as well as from dings and other damage caused by people parking too close to your vehicle.
Onsite EV Charging Stations
If you own a hybrid or fully electric car, you know how important finding an apartment with onsite charging can be. The Canopy is one of the few upscale apartments in Spring with EV charging stations.
Find an Apartment at The Canopy in Spring TX
Whether you're searching to find an apartment with a private yard, electric car changing stations, or an attached garage, contact The Canopy to check availability. You can also browse through our floorplans to see which apartments with garages are available. Select one- and two-bedroom apartments feature a one-car garage, and our three-bedroom townhomes feature two-car garages.