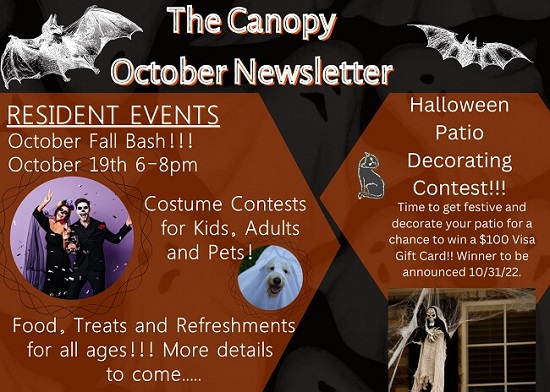 October is always a thrilling month for residents of The Canopy apartments in Spring, TX, and this year will be extra spooktacular! With the resident events at our apartment community and special October events at City Place, you can easily get into the seasonal spirit and enjoy a ghoulishly good time.
October Events for Residents
Halloween Patio Decorating Contest: Win a $100 Gift Card!
If you haven't already, it is time to get festive and start decorating your apartment's patio or balcony for Halloween. It's lots of fun to see all the creative, haunted displays, and participating residents will get a chance to win a $100 Visa gift card!
Need ideas? See the article, How to Decorate Your Apartment Balcony or Patio for Halloween, at Apartment.com for tips.

The winner of our Halloween Patio Decorating Contest will be announced on October 31, 2022. If you have questions, contact your management team.
October Fall Bash
Get your costumes ready and make plans to join us for us on Wednesday, October 19th, for The Canopy's October Fall Bash. This year's bash, held from 6-8pm, will feature separate costume contests for kids, adults, and pets. There will also be tasty food, treats and refreshments for all ages.
October Events at City Place
Dia de los Muertos at City Place Plaza
Celebrate Dia de los Muertos 2022 (Day of the Dead) at City Place. The festivities start October 28th with the 2nd Annual Día de los Muertos Black Dinner, a limited ticketed event. A candlelight procession will lead to the unveiling of a traditional altar, with live music and Catrina face painting. A four-course wine dinner follows. Tickets cost about $150 per person.
On Saturday, October 29, the Mercado comes to the City Place Plaza at noon. Don't miss this opportunity to browse and shop from a variety of Mexican folk-art vendors and artisans. The event is free to attend and will include traditional music and DJs, face painting, photo opportunities, and fun activities for kids.
As the Mercado ends at 6pm, the festivities on The Plaza continue with Calacas & Cocktails.
Calacas & Cocktails Party on The Plaza
Calacas & Cocktails, a special party on The Plaza event, will include a margarita cash bar, plus live music and entertainment. The event will also feature a second candlelight procession, this one open to the public, with mojigangas leading to the traditional altar. While the event is free to attend, you can get a VIP experience for $30 per person.
To learn more about these and other October events at City Place, check out the Calendar of Events.
Happy Halloween!